Fidelity Clearing Canada announces the successful transition of Richardson Wealth to our back office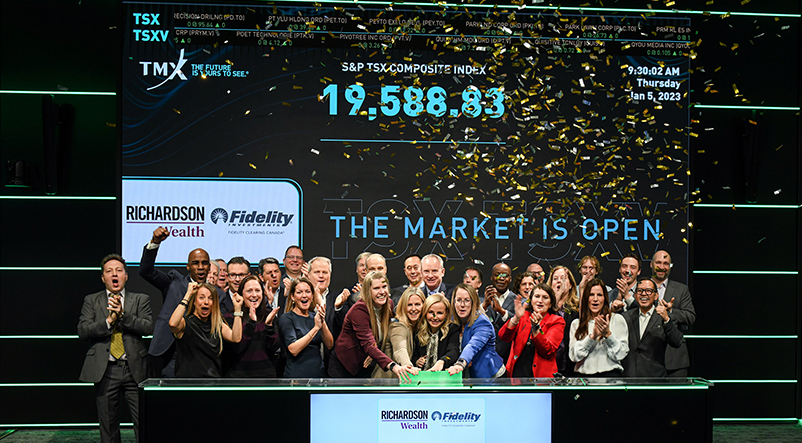 Richardson Wealth Limited (Richardson Wealth), a wholly owned subsidiary of RF Capital Group Inc. (TSX: RCG) (RF Capital), and Fidelity Clearing Canada ULC (FCC) are proud to announce Richardson Wealth's successful transition to FCC's back office and adoption of uniFide®, FCC's leading advisor technology platform. This strategic agreement fuels the digital transformation of Richardson Wealth and accelerates the ambitious growth plans of both companies.
FCC's innovative uniFide® platform provides Richardson Wealth investment advisors with a suite of configurable tools to improve both the advisor and client experience. FCC will provide custody, clearing and trade settlement services for Richardson Wealth.
"Richardson Wealth and Fidelity Clearing Canada are a natural fit — we share an entrepreneurial heritage from our founding families and a long-term vision based on continuous innovation, agility, deep experience and knowledge," said Kish Kapoor, President and Chief Executive Officer of RF Capital.
"Our two businesses already have a strong working relationship and complementary corporate cultures, which has helped Richardson Wealth transition to FCC's uniFide technology platform," added Scott MacKenzie, President, Fidelity Clearing Canada.
Richardson Wealth investment advisors manage $34.9 billion in client assets (as of December 31, 2022). Fidelity Clearing Canada, together with Fidelity Investments Canada ULC, have over CA$265 billion in assets under administration and management (as of January 4, 2023).
"Fidelity Clearing Canada has invested significantly in developing client-centric wealth management solutions," said MacKenzie. "With Richardson Wealth, we bring our expertise and technology solutions to their investment advisors that provide the tools to manage and grow their unique business and provide excellent service to their clients." This new partnership adds significant scale to FCC and solidifies their position as one of the leading providers of trade execution, clearing, custody and back-office support in the Canadian investment services market.
With uniFide® advisors gain access to a range of powerful capabilities such as end to end digital account opening, straight-through processing, trading and reporting on client accounts, and much more.
"At Richardson Wealth, our advisors are our clients. We are committed to giving them the best tools so they can provide the best service to their clients. Being able to leverage the capabilities of a world-class industry leader is a perfect example of how we deliver on our promises and our three-pillar growth strategy. In 2022, we deferred advisor recruiting until we completed this conversion, and will now accelerate our bold and ambitious plan to become the brand of choice for Canada's top advisors and their clients," Kapoor further commented.
This conversion is the result of more than 18 months of dedicated work by a team of over 100 people and involved extensive input from Richardson Wealth advisors.
"The culture at Richardson Wealth is to listen closely to advisors," said David Porter, Portfolio Manager and Investment Advisor. "Dozens of us were consulted along every step of this transition, and our feedback was critical to shaping the future of our business."
About RF Capital Group Inc.
RF Capital Group Inc. is a TSX-listed (TSX: RCG) wealth management-focused company. Operating under the Richardson Wealth brand, the Company is one of the largest independent wealth management firms in Canada with $34.9 billion in assets under administration (as of December 31, 2022) and 20 offices across the country. The firm's Advisor teams are focused exclusively on providing strategic wealth advice and innovative investment solutions customized for high net worth or ultra-high net worth families and entrepreneurs. The Company is committed to maintaining exceptional fiduciary standards and has earned certification – determined annually – from the Center for Fiduciary Excellence for its Separately Managed and Portfolio Management Account platforms. Richardson Wealth has also been recognized as a Great Place to Work™ for the past three years, a Best Workplace for Women, a Best Workplace in Canada and Ontario, a Best Workplace for Mental Wellness, for Financial Services and Insurance, and for Hybrid Work. For further information, please visit www.rfcapgroup.com and www.RichardsonWealth.com.
About Fidelity Clearing Canada ULC
Fidelity Clearing Canada (FCC), a leading provider of custody and clearing services, provides robust, flexible, and scalable solutions to registered broker/dealers, portfolio managers, and investment advisors. Clients rely on us for expertise in wealth management, technology, trading, and business transition, which gives them the freedom to focus on what they do best – helping end investors achieve their financial goals. Fidelity Canada is one of Canada's Top 100 Employers for 2022, one of Greater Toronto's Top Employers for 2022, and one of Canada's Top Employers for Young People for 2022. For more information, please visit https://clearing.fidelity.ca